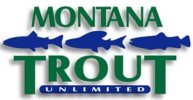 The Lewis & Clark Chapter of Trout Unlimited will meet at the Beaverhead County Search and Rescue building in Dillon, April 4 beginning at 6:00 pm, with the following agenda:
6:00 – 6:45: Matt Yeager,Fisheries Biologist for Fish, Wildlife and Parks will give us a look at the Beaverhead River watershed and be open to questions.
6:45 – 7:00:  Brian Ohs from Montana TU will give us an update along with proposing a mini-grant for our chapter on Hell's Canyon.
7:00 – 7:10: Proposed meeting at Healing Waters Lodge the end of May and hopefully the chance to meet our legislators.
7:10-7:30:  Brian Wheeler will finalize information regarding the Beaverhead River clean-up planned for April 9.
For more information please contact:
Mike Geary at 406-459-2030, email: Lcexpe@aol.com